Oliver L. Velez Presents...
Questions?

(866) 877-6124

Info@iFundTraders.com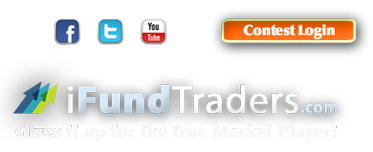 Only 125
0

Spots Remain. Time Left To Register...
Think you can trade? Prove it!
In an effort to identify talented traders to join the ranks of one of the worlds largest trading groups, iFT is looking to recruit and reward the true market player! Think you have what it takes? Enter the trading challenge and prove your profitability! Are you ready?
Trading Challenge Terms Overview
Please note that the first place grand prize winner of this competition may be required to share the following information for promotional purposes: personal details such as name and age, photograph and information about his/her trading strategy and history.




All participants in the challenge will be subject to a $125* entrance fee necessary for contest administrative costs.




All participants in the challenge will be given $125,000 in buying power at the beginning of the challenge.




All participants will have a max gross weekly drawdown of $1,000.




All participants will be able to trade all currency pairs and all CFD's.



All participants will have access to iFT's Forex Trading Room during the Challenge.

Visit iFundTraders.com for more info.
The winning traders, above the age of 18, with the most profit at the conclusion of the contest, will win exclusive prizes.




iFT reserves the right to change the terms and conditions of the Challenge with written notice to the participant at any time.
Contest Information
Enter > Trade > Win
Enter to win and pay the $125* contest entrance fee.

Undergo an extensive platform training course taught by iFT's master traders ensuring all participants are on an even playing field with the trading platform technology.

Begin trading at the start of the contest adhereing to the challenge terms and conditions.

Trade. Prove your profitability!

Trading statistics will be recorded for contest analytics.

Leading contestants will be displayed daily during the challenge.

Winning traders will be announced at the conclusion.

Prizes awarded to winners.

* Challenge Begins June 5th, 2016 and Ends July 1, 2016


Professional Market Technology
Unlike other internet contests which employ slow web based trading simulation, iFT's tradind challenge contestants are provided with the industry leading WealthTraderFX Pro trading platform which has been specifically customized for iFT's income producing style of trading.

*All contestants will be responsible for a one time $120* entrance fee to cover administrative and trading platform usage charges associated with our technology vendor and the usage of one of the worlds premier trading platforms.
For more information regarding
WealthTradeFX or WealthTradeFX Pro: